Jonathan Bloom grew up in Fairlawn, NJ. It's basically the West Hempstead equivalent of North Jersey, if that helps.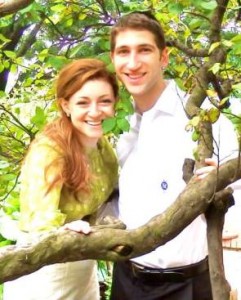 After a solid 4 year run in TABC, Jonathan went on to learn in Yeshivat Shaalvim and then to Yeshiva University. At YU, Jonathan jumped around from major to major, ultimately settling on Psychology. As is natural for Psych majors at YU,
he decided to enroll in YU Semicha, where he is currently in his third year. Throughout his college and semicha years, Jonathan has served in numerous Jewish educational positions, ranging from the rabbinic intern at the Riverdale Jewish Center to a member of the chinuch staff at Camp Lavi to a YU-Teach fellow. Jonathan loves to play roller hockey, watch TED talks, eat unhealthy snacks, and is always down for a good chill. He is excited to be a OU-JLIC fellow at the NYU Bronfman Center, the very place where he met his super cool wife, Sharone.
Sharone Bloom hails from the city of Leipzig. Not New Leipzig in North Dakota, but the original. In Germany. The alter heim. Yah, you read right. But you would barely know it. Traveling and living throughout Europe during High School, Sharone is fluent (without an accent!) in just about any language you've ever heard of. Well not quite, but close. After High School, Sharone studied at Midreshet Tehilla in Jerusalem and enrolled at University in Levico Terme, Italy. Eventually, Sharone decided explore the Western hemisphere and came to NYC where she completed her BA in Political Science. She is currently a graduate student at NYU in the Wagner-Skirball dual degree master's program, concentrating in finance and Judaic Studies. Sharone is fascinated by obscure Jewish communities, comparing Jewish and Western ideas, comparative linguistics, discussing notions of identity, and has a love for cats that neither she, nor anyone else, can explain. Oh and if you're looking for an amateur tour guide in Europe, be in touch.