Rabbi Joe Wolfson and Corinne Shmuel arrived at New York University in the Summer of 2015! Along with their daughter Mika, they are enjoying the opportunity to learn with students and be a meaningful part of their lives on campus!
Rabbi Joe Wolfson grew up in London but has spent most of the last decade studying, working, and loving life in Israel. He studied at Yeshivat Har Etzion and Bet Morasha, through which he received his semikha from the Israeli Chief Rabbinate. He thought he was going into politics and did degrees at Cambridge ,where he was president of the Jewish Society and UCL. He decided to go into Jewish education and has taught texts on four continents primarily as a faculty member of London School of Jewish Studies.
Beyond music, good books, cycling and HBO, Rabbi Joe is passionate about the way in which texts link up to larger issues of Jewish identity. He has worked in areas as diverse as the Israeli-Palestinian conflict, religious-secular relations in Israel, and European Jewish communities. Now he is excited to return to school and be at the heart of Jewish learning and life at NYU.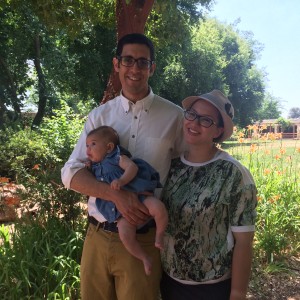 Corinne Shmuel comes from Leicester, England, where she grew up in an extremely multi-ethnic society. She studied History of Art at the University of Leeds and the Courtauld Institute of Art and from fall 2015 will be one-half of the Orthodox Union's Jewish Learning Initiative on campus (OU-JLIC) team together with her husband, Rabbi Joe. After making Aliyah she decided to take her love of food up a level and trained as a professional chef. She worked in various restaurants and catering companies for a few years, and then took a second 'gap year' to immerse herself in the study of Talmud and Tanakh at Matan Women's Institute for Torah Studies.
Rabbi Joe and Corinne had their first baby, Mika, in March 2015, and since then she has been taking up a lot of their time. Other than making Mika laugh, Corinne's interests include social justice projects, capoeira, drawing, travel (especially India!), and of course food.
Their home is open to all and they are looking to get to know New York and more than that want to get to know you! So don't hesitate to be in touch and invite yourself round. Be in touch for a coffee, chavruta, chill, or a meal – or to accompany them on their adventures as they get to know New York University!